Modern men ARE manly enough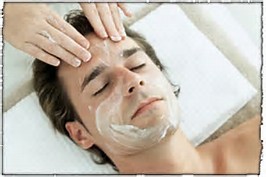 .
Men have become very interested in themselves- from their profiles to their pecs.
"A" list men are getting facials- big name football players, why NOT you???
You can help yourself to age more gracefully by taking care of you, your skin, and removing unwanted body hair.
This DOES NOT make you less of a man. The benefits of taking care of yourself SHOULD out weigh the past stigma . Facials have numerous beneficial aspects, they reduce stress, the power of touch , olfactory senses, and the facial massage is GREAT for your handsome face.
3 things you men should do for yourselves everyday without fail-
Moisturize, apply an eye cream and use a lip balm ( all with SPF of at least 15)
I can even recommend the products that I make. NO petroleum , no parabens, nothing you cannot pronounce- ALL great for you skin.
MEN- I offer you waxing services as well- maintenance is key- you'll notice less hair- and the more waxings
= less pain too!